Torrey Smith and Jermaine Lewis share a common bond of having played for the Maryland Terrapins and Baltimore Ravens but they also share a tragic bond that propelled them to great performances.
The Baltimore Ravens 31-30 win over the New England Patriots on Sunday was a great game filled with high drama and was every bit the heavyweights re-match of the AFC Title game everyone was hoping it would be.
As a Ravens fan, the game did little to answer questions about the purple and black as a whole (tomorrows article) but it certainly answered, or confirmed what we thought we already knew about Ravens WR Torrey Smith. The former Maryland Terrapin standout is a quality, selfless individual, whose effort on the football field following the death of his brother that morning was an act that will never be forgotten by this fan.
There have been many great moments not just in Ravens football history but in the lore, that is Baltimore sports history. Smith's performance Sunday night ranks right up there with any performance we have ever seen with the old Colts, or for that matter the Baltimore Orioles. Smith's performance was as epic as Johnny U getting up and throwing a touchdown after getting his nose broke by the Bears Doug Atkins. It was every bit as memorable as the birth of Orioles Magic in 1979.
We are blessed fan base in the Charm City. We have had some of the greatest teams in the history of sports. The Baltimore Colts of the late 1950's and 60's were a dynasty in the NFL. The same can be said of the Baltimore Orioles from the early 1970's.
We watched Ray Lewis and the 2000 Ravens hold opponents to just 165 points for an entire season as one of the best defenses to ever play the game. We have witnessed some of the best athletes at their position construct Hall of fame careers in both sports. There was Unitas to Berry, Franks and Brooks, Eddie and Cal, and now Ray and Ed.
While Smith is just in the second year of his career and his career may never turn into what the above-mentioned players accomplished during theirs, but if only for one night, Smith deserves to be mentioned in the same sentence with them. Much the same way another former Maryland Terrapin standout turned in a similar performance on the final day of the 2000 season, which happened to be Christmas Eve.
With former Ravens QB Vinny Testaverde under center, the NY Jets came to then PSI Net Stadium with a 9-6 record. A win and the Jets were in the playoffs a loss and they were likely out of the postseason. Testaverde did his best that day. The man who scored the first touchdown in Baltimore Ravens history staked the Jets to a 14-0 lead with two first quarter touchdown passes, as Testaverde picked apart the record setting Baltimore defense with precision.
The Ravens had no answer for their former signal caller as Testaverde threw 69 times, completing 39 for 481 yards. The yards and attempts are still the most ever against the Ravens to this day, but in typical Testaverde fashion, he threw three interceptions along with his two touchdowns. He also lost a fumble on the day. One of those interceptions occurred as the Jets were on the Ravens two-yard line with 24 seconds to play in the half. Instead of a 21-12 Jets lead at halftime, Ravens cornerback Chris McAlister gave his team a 20-14 lead with a 98-yard pick six.
The touchdown by McAlister was proof that what was occurring on the field that day was more than a football Christmas miracle, something else was starting to take hold. While all of this was fun to watch, hearts were heavy on this festivus-holiday weekend. Ravens slot receiver and still the team's all-time leader in punt return yardage (2,730 yards), Jermaine Lewis was mourning the death of his stillborn son.
His name was going to be Geronimo and he was scheduled to arrive around New Year's Day 2001. But for Lewis, as it did for Torrey Smith early Sunday morning, football took a back seat in mid-December. Lewis's and his wife Imara, lost Geronimo just days before the Ravens were to play a game in Arizona Dec. 17. Somehow, the baby had become tangled in the umbilical cord and almost immediately, the doctors induced labor.
The next morning Geronimo was delivered stillborn.
Lewis, despite everything, felt obligated to be with his team. Then Ravens Coach Brian Billick had to step in and tell him to stay home. "He would have looked back on it with his wife and realized, 'No, I should have stayed home with you,' " Billick said at the time. "I guess being older I had to help bring that perspective in for him."
Lewis returned the following week for the Jets game and with his three-year-old son JJ's name on one wristband and Geronimo on the other, Lewis stepped into rarified Baltimore sports history air. The former Terp would provide the Ravens with the cushion they needed to put the game this game away on not just one occasion, but also as Smith did on Sunday, Lewis would do it twice.
The Jets closed the gap to get within a touchdown at 24-17 and were again finding a rhythm on offense. However, with 6:33 to play in the third, the Ravens defense stiffened and forced the Jets to punt from their own end zone.
Jets punter Tom Tupa booted a 50-yarder to Jermaine Lewis who simply ran untouched through the middle of the field for a 54-yard touchdown. As he entered the end zone, Lewis would point to the sky acknowledging his lost child but he was not done.
With the crowd still in their seats and buzzing from his first run back, Lewis took the field with 5:22 in the game and a 12-point Ravens lead. It would soon be 19 points as the Jets again punted to Lewis. Tupa boomed a good-looking 51-yard punt, which Lewis fielded at his own 11-yard line. He deeked what seemed to be every Jets defender on his way to an 89-yard touchdown return, which put the Ravens up 39-20 and eliminated the Jets from the playoffs.
The punt return TD was the sixth and last of Lewis's career. It capped a very emotional and memorable day for the Ravens 5th round (153rd overall) selection of the 1996 NFL Draft and help set the stage for an emotional drive through the AFC playoffs for Baltimore and their fans.
Christmas Eve 2000 was not the first time Lewis returned two punts in the same game for a touchdown. As the world's largest outdoor insane asylum celebrated its final season in 1997, and during his second season, Lewis returned two for TD's at old Memorial Stadium. Against the Seattle Seahawks in early December, Lewis returned punts of 66 and 89-yards for touchdowns. He also caught a 29-yard TD pass from QB Eric Zier as the Ravens won that game thanks to Lewis's efforts, 31-24.
Lewis would go onto to play for the Houston Texans for one season (2002) before finishing his career in Jacksonville. A knee injury prematurely ended his 2004 season and ultimately his career.
Just as Lewis did on Christmas Eve 2000, and if only for one night, both he and Torrey Smith's name are at the top of an exclusive list in Charm City Sports history. In fact, Lewis is proof that performances like the one he and Smith turned in will never be forgotten.
No one can say for sure whether the Ravens would have held on to win that game on Christmas Eve 2000 had Lewis not returned those punts. But one thing is for sure, it would have been a different contest without them. Aside from the Ravens creating six turnovers, it was the worst performance of the season for the vaunted Baltimore defense and one that many felt delivered a blue print on how to beat them in the playoffs. Of course, it was merely a blip on the radar for the greatest single season defense in the history of the game. A defense that went on to surrender just one offensive touchdown during the playoffs and Super Bowl.
Speaking of the Super Bowl, Jermaine Lewis would score a touchdown on the biggest football stage when answered the NY Giants Ron Dixon's 97-yard kickoff return for a touchdown, with an 84-yard one of his own on the ensuing kickoff. Lewis was spectacular on the play and pointed towards Geronimo as he crossed the goal line to give the Ravens 24-7 lead.
Jermaine Lewis is not finding life after football as easy as he found returning punts. He was arrested in August of 2011 after crashing his vehicle near his home and then fleeing the scene. When Baltimore County Police confronted Lewis at his home, he appeared to be under the influence of alcohol and resisted arrest. Then in February, Lewis was arrested again in Baltimore County for driving on a suspended license. The arrest came two months before he was due in court from the above charges.
He told the arresting officer during the February stop that he was driving on a suspended license because." his wife was in jail and that he needed to get food for his son and something to heat his home," the report states. "Defendant Lewis then pointed to a fire starter log in the front passenger seat of the vehicle."
Let me say this, I am not sure what the situation is currently in Lewis's life, but I find it tragic that a home grown former Terp and Raven is living like this. Maybe there is a lot we do not know about Lewis but I will pray that he gets his life headed in the right direction. I will never forget how he lifted up a city with his performance on Christmas Eve 2000 and how his great attitude, similar to that of Ray Rice, was always a positive on a team that seemed to possess a lot of "me type players". He was a positive influence on the community and like Rice does, Lewis also did a lot of work with those less fortunate. Maybe someone who has the capacity needs to step in and help uplift a former hometown superstar that is less fortunate than the rest of us these days.
One could argue (and someone did today on ESPN) that without Torrey Smith last night, the Ravens would have still won the football game. You could argue it, but I am not buying it. To be fair and accurate for the article's sake, both touchdown passes occurred on first down. However, Joe Flacco had no other options on each TD pass and Smith's six catches for 127 yards led the team. Therefore, I am going to argue that without Smith last night, the Ravens would be 0-7 vs. New England as a franchise but more importantly 1-2 on the 2012 season.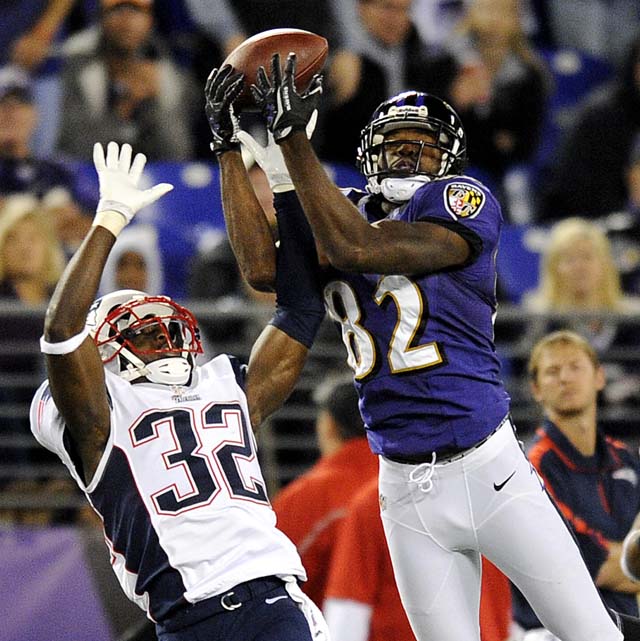 It is tragic that Terp brothers Smith and Lewis share a similar experience, but I think how they handled the situation with their personal families and their football families speak volumes as to the type of character the Ravens have and had in each player.
They say that athletes are no longer heroes. If you know Torrey Smith's story then you know he is genuine and ahead of his time in terms of being a responsible man in life. Smith is what I want my kids to idolize in an athlete. I want them to respect his craft but idolize how he handles himself off the football field. Torrey Smith can be a hero to my kids any day and I think athletes need to hear that more than we think.
What Smith and Jermaine Lewis did for their families during a difficult time off the field was part of being the man of the family both would tell you I'm sure. However, what each did for their football families and the fans of Baltimore on the field deserves to be remembered as great moments in Baltimore Sports history.